Chuck Kimmerle photographer
I am a fine art photographer working primarily in black and white. My work does not always fit within the usual categories. The landscape moniker, while the most accurate, evokes unfair and incorrect expectations of mountain panoramas at sunset or vistas with foregrounds of colorful flowers. Neither occupy much space in my collection. Instead, my photographs are stark, simple, quiet, personal, and often contain artificial objects. They are unique.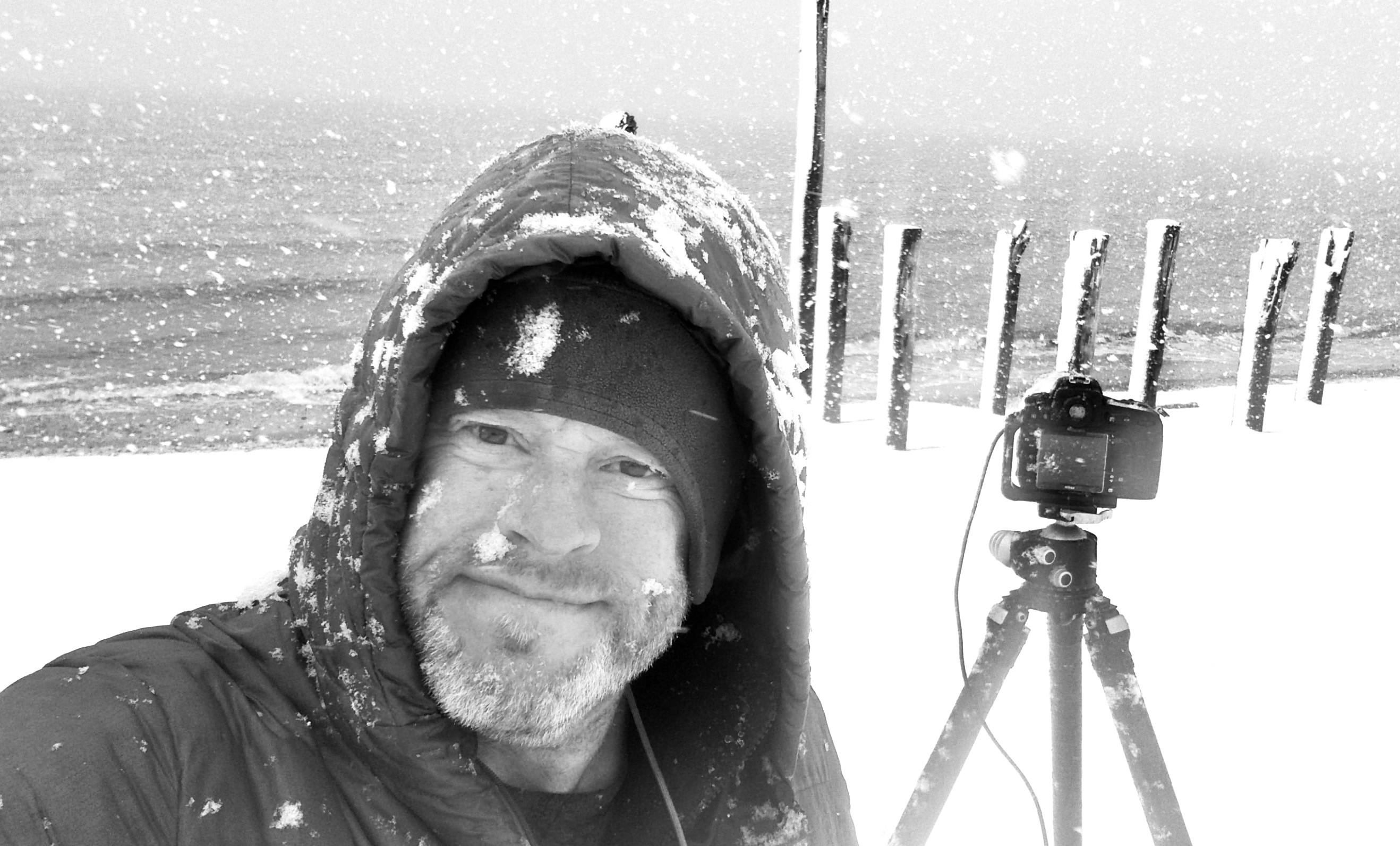 I began my career as a newspaper photojournalist and photo editor. It was during this time that I, along with three fellow staff photographers, was named as a finalist for the 1998 Pulitzer Prize for Spot News Photography. Aside from winning, it doesn't get much bigger than that. After more than 15 years working at daily newspapers in four different states, I left photojournalism. My next job was as the chief photographer, and occasional art director, at the University of North Dakota, where I remained for another ten years.
During these years as a staff photographer, I spent an increasing amount of time photographing the landscapes near where I lived. As my day job photographs were mostly in color and prominently featured people, I did my personal work in black and white and left out the actual humans, although I did keep their presence.
This delineation between my work pictures and my personal photographs was essential to keep from burning out of photography. However, there is no denying the influence my day-job photography had upon my personal work. For instance, I prefer the narrative of the single image as opposed to the conceptual or location-based cohesiveness of the defined photography project. And, I react very strongly to the juxtapositions near the confluences of where nature and man, coexist (or collide).
I now devote myself full-time to photographing the landscape in my unique, personal style. I prefer to photograph in areas devoid of obvious grandeur or explicit beauty, even if surrounded by such splendor. These are the areas I often think of as the "in betweens." I prefer prairies to mountains, and the high desert to the slot canyons. I am most at comfortable, and at my most creative, in areas which are reticent, quiet, and open. The areas in between.
____________________________________________
SELECTED EXHIBITIONS, recent

2018 Solo Exhibit, Fort Collins Museum of Art, Fort Collins, Colorado
2018 Solo Exhibit, Dahl Fine Arts Center, Rapid City, South Dakota
2016 Solo Exhibit, The Nicolaysen Art Museum, Casper, Wyoming


SELECTED RECENT PUBLICATIONS/INTERVIEWS

2023 Nature Visions magazine, Creating Unique Work
2022 Outdoor Photographer magazine, Photography in Winter
2022 Portfolio, Lenswork magazine, issue #158, Manzanar portfolio
2022 ELEMENTS magazine, featured photographer
2022 MacQueen's Quinterly fine arts magazine
Monograph: Peripheral Vision, Lenswork Publishing
Book: Black and White Photography, Amherst Media


ARTIST RESIDENCIES/AWARDS/SPEAKING

2021 Out of Chicago 2021! photography conference
2020 McCanna House Artist Residency, ND Museum of Art
2018 Tom West Award, Nicolaysen Art Museum
2014 Artist Residency, Joshua Tree National Park
2013 Artist Residency, Glacier National Park
2012 Artist Residency, North Cascades National Park
2011 Artist residency, Zion National Park.
1998 Finalist, Pulitzer Prize for Spot News Photography